Tiffin Services in Koramangala Bangalore: "High Speed Rail Layout" is an abbreviation for "Koramangala." Bangalore is India's busiest city. Everyone is concentrating on getting their daily bread and butter. With a strict schedule and intense work, 'excellent eating' is all your body and mind require. Anyone can survive on restaurant or street cuisine on occasion. On the other side, every Indian expects the Ghar ka khana to meet their mental and physical needs. Everyone who has moved away from their house in Koramangala, Bangalore misses the home-cooked meals they used to prepare in their own kitchen.  Let's know More about Tiffin Services in Koramangala Bangalore.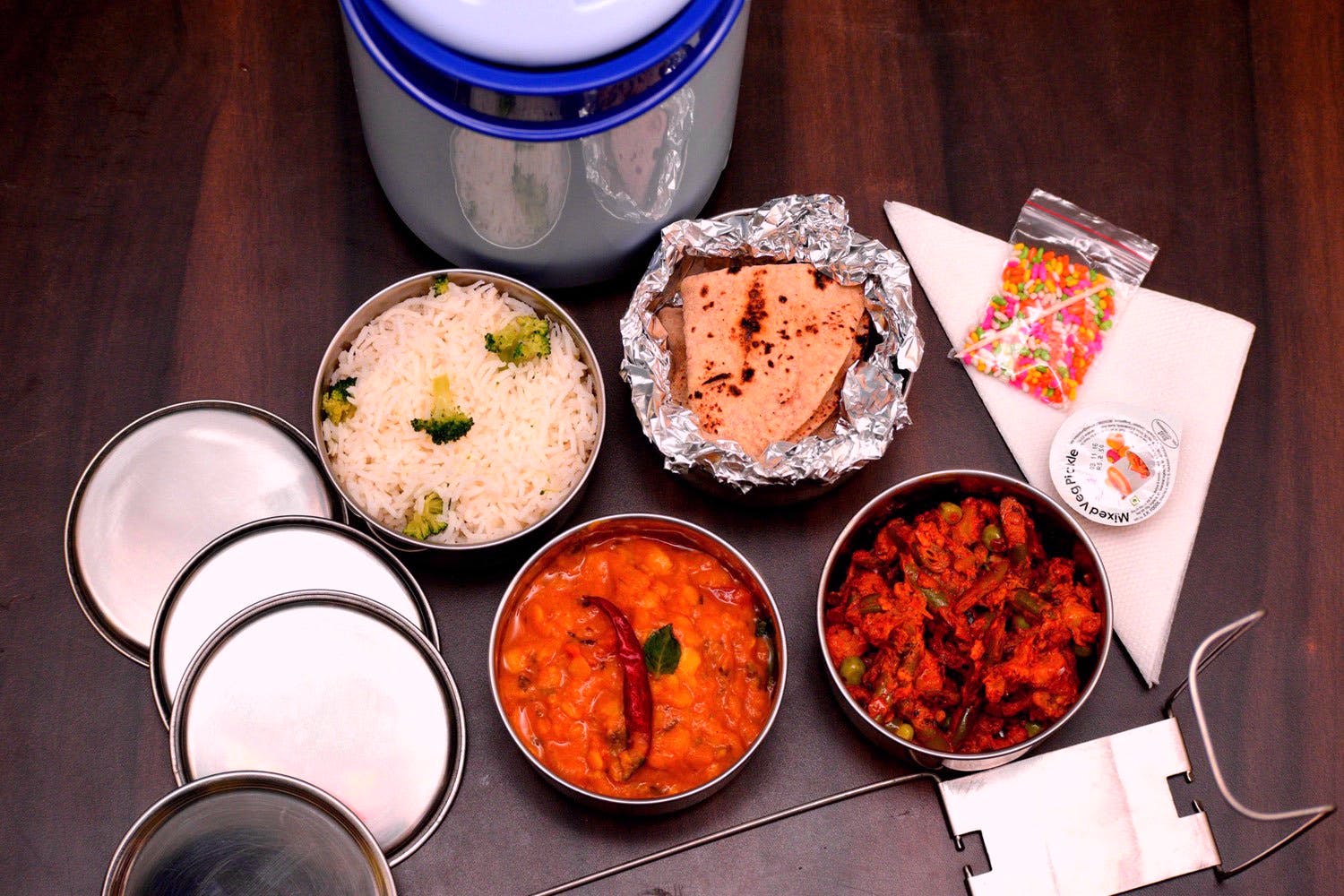 Available Online
The best part about us is that we can be reached over the internet. Because everything is now available over the internet, why not tiffin services? You may reach out to us, set up a plan, and start receiving nutritious and delicious meals delivered to your workplace.
Pure Veg
In Koramangala, Bangalore, there are various tiffin services, however only a few of them serve exclusively vegetarian meals. This vegetarian tiffin service sets them apart from the majority of tiffin services, which provide both vegetarian and non-vegetarian options. Sangita's Kitchen solely provides vegetarian cuisine and closely adheres to Sattvic culinary ideals. Let's know More about Tiffin Services in Koramangala Bangalore.
Food Variation
Some individuals believe that vegetarian food is all the same. However, this is not the case. Sangita's Kitchen offers a wide variety of vegetarian options. Its crew is always attempting to come up with innovative dishes for its clients. There are dishes from Punjabi, Maharashtrian, Gujrati, Rajasthani, and South Indian cuisines. On a regular basis, new meals are introduced to their menu cards. Trying different cuisines every day is a lot of fun.
A meal for everyone
The themes of Sangita's Kitchen may be adapted to any setting. Our clients range in age from preschoolers to CEOs. It's difficult to locate a tiffin provider that can meet your specific dietary requirements. You have the freedom to select any package that meets your requirements. Aside from that, if you let us know ahead of time that you are fasting, we will occasionally prepare meals for you. Their payment system is also capable of handling any form of online transaction. As a result, finding a tiffin service in your neighbourhood is rather straightforward. Let's know More about Tiffin Services in Koramangala Bangalore.
Benefits of having a Healthy veg tiffin box
Eating delicious cuisine has grown fashionable in recent years. Is it, on the other hand, beneficial to one's health? It is unnecessary to go into great detail because everyone knows how to address the problem. The food we eat has an impact on our bodies and minds. As a result, eating healthily must become a way of life. Because of their numerous health advantages, all grains and green vegetables are included in our normal meal preparations in our culture. What did your parents think when they made you eat all the vegetables?
The second question is: when you're not at home, where can you obtain the same artisanal, nutrient-dense meals? Sangita's Kitchen is one of the top vegetarian tiffin services in Koramangala, Bangalore, serving healthy home-cooked meals to everyone. Eating a nutritious veg tiffin box as a regular meal has a number of benefits. Let's know More about Tiffin Services in Koramangala Bangalore.
Homemade food provides good nutrition's
Sangita's Kitchen is Koramangala Bangalore's most popular vegetarian tiffin service. We provide delicious home-cooked meals with a touch of mom's magic. For your body, homemade food is a terrific source of nourishment. The total power of your metabolism is improved as a result of these nutrients. Eating a nutritious vegetarian tiffin meal is the best approach to maintain your body fit and healthy.  Let's know More about Tiffin Services in Koramangala Bangalore.
Read More
Reduces the risk of diseases
A healthy metabolism increases the amount of blood cells in your body, which fight disease-causing microorganisms and keep all potentially harmful and deadly substances out. This also aids in the prevention of long-term illnesses.
Helps you to keep a good mental health
Your mental health is influenced by what you consume. If you continue to feed your stomach unhealthy, spicy, and imbalanced foods, you will have headaches, sleep problems, and mental pressure. Every day, eating a nice and nutritious meal helps your mind relax.
Better mood and work capacity
Because what you eat has an impact on your mental health. A balanced diet and a stomach full of nourishing meals allow you to focus on your task with ease. It improves your mood and makes you think more creatively. A well-balanced meal consumed on a regular basis might also aid memory enhancement. Let's know More about Tiffin Services in Koramangala Bangalore.
Strong bones and teeth
A nutrient-dense vegetable tiffin includes a variety of essential vitamins. Vitamins A, D, E, and K are necessary for bone and dental health.
Boosts energy
Eating healthily helps you stay energised. The vegetables provided by the veg tiffin service are fresh and high in vitamins, so you will never be hungry.
Eating healthily helps to maintain a high level of energy. The veggies in the veg tiffin service are fresh and high in vitamins, so you won't feel drained.
The benefits of having a vegetarian tiffin service include protein, the absence of dangerous chemicals, and the pleasure of eating homemade cuisine. Sangita's Kitchen is Koramangala Bangalore's best vegetarian tiffin service. We cook in a satvik style, which solely permits vegetarian meals. Eating vegetarian meals on a regular basis is a surefire method to stay healthy.
If you're seeking for the same level of commitment and delightful flavour of healthful Indian food, tiffin services are a good option. There are several tiffin alternatives in Koramangala, Bangalore. On the other hand, finding the appropriate one for you may be difficult. Sangita's Kitchen is one of the best options for folks who are constantly on the go or who want a nutritious tiffin delivered to their home. Let's know More about Tiffin Services in Koramangala Bangalore.
Apart from the delicious taste, there are several more reasons to start using Sangita's Kitchentiffin service:
Sangita's Kitchen looks and feels like your mother's kitchen. It not only delivers nutritious vegetarian tiffins, but mother also wraps the food with love and enchantment.
LUNCH TIFFIN SERVICE -THE SECRET TO HAVE A HEALTHY LIFESTYLE
Nobody wants to get sick and die when they are young. Everyone, on the other hand, values leading a healthy lifestyle. If you think of living a healthy lifestyle as going to the gym every day for hours and eating only prepared foods, you're mistaken. We'll have to extend your horizons after that.
Simple things like eating good and prepared meals every day, avoiding fast food, and so on can help you live a healthier lifestyle. If you believe you can't afford a healthy lifestyle because you're away from home, reconsider. We're here to provide you some simple yet fascinating information on how a lunch tiffin service might help you live a better life. Let's know More about Tiffin Services in Koramangala Bangalore.
You Start Avoiding Fast Food
You begin eating homemade cuisine after purchasing a lunch box online. As a result, lunchtime fries and pizza will be unavailable. Fast food should be avoided on a regular basis if you want to live a healthy lifestyle. If you eat more simple and healthful meals, your metabolism will work better.
No More Skipped Meals
You do not skip meals because the dietary plans are specified every day. If you don't utilise an online lunch tiffin service, you're more likely to skip meals. It's difficult to choose food every day, therefore many individuals start missing meals to avoid it, leading to an unhealthy lifestyle. You must eat on a regular basis in order to live a healthy lifestyle.
Lunch on Regular Time
According to several studies, eating at the same time every day leads to a better lifestyle. If you consume at regular intervals, your metabolic system will be reinforced. If you feed your stomach on time every day, your metabolic system will develop the habit of digesting on time. One simple practise helps prevent acid reflux, diabetes, and other appetite-related issues. Furthermore, your body need energy on a regular basis, and food is the only source of energy available to it. When meals are consumed on time, they are absorbed more quickly, resulting in an increase in total energy. As a result, you'll have better psychological stability.
Healthy Food, Healthy Lifestyle
Last but not least, as you are all aware, proper nutrition is critical to leading a healthy lifestyle. Remember how we used to have less health problems when we were younger? This is the case since we used to eat nutritious meals on a daily basis. The key to having a healthy lifestyle is to eat 'Maa ke haath ka khana.'
Sangita's Kitchen is the greatest lunch tiffin service in Koramangala, Bangalore, since it offers a nutritious meal. Their lunch box is also available for purchase on their website. With only a few clicks, you may order your favourite lunch box. Sangita's Kitchen has a reputation for only serving the same meal once every 30 days. We provide a wide range of cuisines, from Panjabi to Maharashtrian. In Bangalore's Koramangala, we provide completely vegetarian lunch tiffin services. Remove the notion that you can't eat properly or have a healthy lifestyle when you're not at home. All you have to do now is go online and place an order for the greatest lunch box available.
A fairly priced simple Ghar ki khana, this is exactly what defines them. Sangita's Kitchen is an Indian fast food outlet that serves as well as delivers home-style thalis prepared with absolutely fresh ingredients, making it one of the best Tiffin services in Bangalore.
Order Today The Home Cooked Delicious Tiffins.
Contact Us: 6361242727/8317346918
www. sangitaskitchenlive.com
Website link: https://tinyurl.com/29bu7k89
Email:admin@sangitaskitchenlive.com
Address: #713 , 17th C Main Rd, 6th Block, Koramangala, Bengaluru, Karnataka 560034.
Powered By ArgusDNA