Palak paneer recipe: One of the most popular Indian dishes is palak paneer. Palak paneer is a vegetarian gravy dish made with spinach and paneer cubes from Punjabi cuisine. Palak Paneer is a spinach and paneer (a non-melting Indian cheese) stew cooked in a tomato and onion sauce with Indian spices. It is a well-liked vegetarian dish. Let's know more about palak paneer recipe.
Palak has been the meal of the rural people since its arrival on the subcontinent, and the hearty handmade Palak paneer union suited the strenuous lifestyle of the country people who toiled away in the bountiful province's agricultural regions.
This spinach and paneer combo is not only healthy, but also delicious in terms of taste, texture, and flavor. This nutritionally dense green leafy vegetable also tantalises your taste senses with its distinct flavor and aroma. Because of the natural green and white tones of spinach and paneer, the meal appears quite appealing.
About Palak:
Palak, often known as spinach, is a nutritious green to add in your diet. It's a vegetable that may be used in a variety of ways. Spinach goes great with almost every form of food; whether it's dal, spaghetti, stir-fries, curries, noodles, pizza, and so on, the culinary choices are practically unlimited. Palak Moong Dal Fry, Palak Paneer Paratha, Palak Pakoda, Palak Dal, Palak Curry, Palak Gosht, Palak Chutney, Aloo Palak, Palak Puri, and a variety of other dishes are among them. Let's know more about palak paneer recipe.
About Paneer:

Paneer is a type of fresh cheese that is popular in South Asian cuisine. It comes from India. It is known as Chhena in the eastern areas of India. Due to the importance of milk in their cuisines, northern India, Pakistan, and Bangladesh utilise paneer more frequently. When purchasing paneer from the market, there are two types to choose from: hard and soft. Though many people like soft cottage cheese, it is important to note that soft cottage cheese lasts a shorter time than hard cottage cheese. Cottage cheese that is soft is ideal for salads, while cottage cheese that is firm is perfect for snacks or curries. Let's know more about palak paneer recipe.
Do you want to learn how to make palak paneer? You've got it!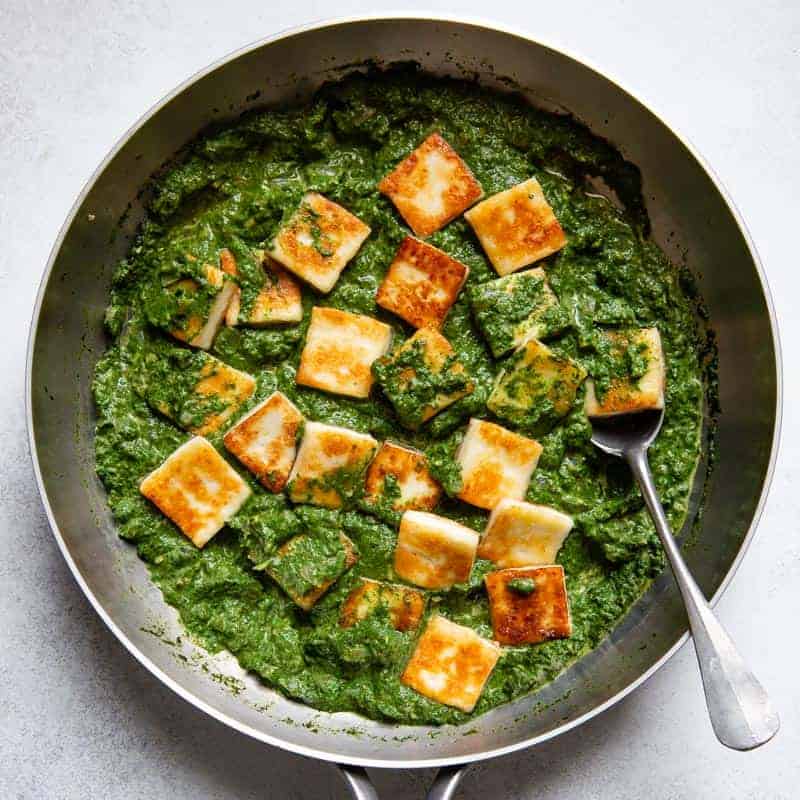 Ingredients for Easy Palak Paneer Recipe:
12 oz. palak (spinach) washed and drained
1 tomato
5 cloves garlic, divided (3 whole and 2 finely chopped)
1 (2 inches / 5 cm) piece ginger
1 hot green pepper (or more to taste)
1 tablespoon vegetable oil
1 large onion, finely chopped
½ cup water
1 teaspoon garam masala
¼ teaspoon turmeric powder
¼ teaspoon red chilli powder
3 tablespoons heavy cream
8 oz. paneer , cubed
½ tablespoon kasuri methi (dried fenugreek leaves)
1 lime , squeezed
½ teaspoon sugar
Salt
White pepper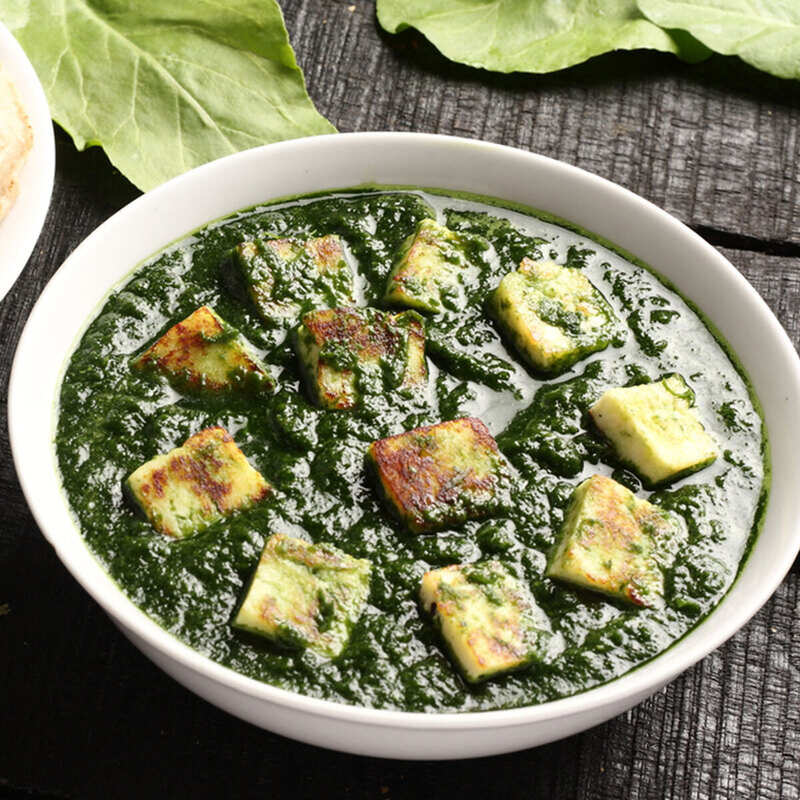 Preparation Method for Palak Paneer Recipe:
• Place the spinach leaves in a large pot of boiling salted water and blanch for 3 minutes, or until wilted.
•
Drain the spinach and immediately immerse it in a big ice bath to keep the colour of the leaves.
• Blend the blanched spinach and tomato, 3 whole garlic cloves, ginger, and green pepper in a blender. Set aside after reducing to a homogeneous paste.
•
Over medium heat, heat a deep, dry skillet.
• Pour in the oil, then add the two garlic cloves that have been chopped.
•
Cook for 1 minute, or until the onions are just starting to colour.
• After that, toss in the chopped onions.
• Cook, stirring often, for 2 to 3 minutes, or until the onion is soft and transparent.
Add the reserved spinach purée and mix.
• Pour in the water. Cook, covered, for 10 minutes over medium heat. The spinach should be quite bubbly. To keep it from sticking to the bottom of the pan, stir it at regular intervals.
•
Add the garam masala, sugar, turmeric powder, red pepper powder, and salt once the spinach has cooked. Cook for 1 minute, covered, after mixing. Then stir in the heavy cream.
• Toss in the paneer and combine well.
• Cook for 3–4 minutes on low heat. Remove from the fire and stir in the lemon juice and kasuri methi.
• Serve the palak paneer with naan, roti, or rice while it's still hot.
Pro Cooking Tips:
• Soak paneer in boiling water for 10 minutes after shallow frying for soft paneer that blends beautifully with palak sauce.
• To keep the nutrients in spinach, don't overcook it.
• Don't over-blend the spinach; else, you can end up with a mushy mess.
Health Tips:
• Palak (Spinach) is a good source of iron, vitamins A and C, and calcium.
• Palak is high in Vitamin C, which boosts your metabolism and helps you burn calories more efficiently.
• Palak leaves are abundant in protein, calcium, and carotenes, making them an important part of a balanced vegetarian diet, according to Ayurveda.
• Palak is also good for your skin, hair, and bones.
• Palak is good for your eyes and boosts your cognitive function.
• Paneer is higher in protein, vitamin B12, and calcium than other cheeses, and it's also simpler to digest.
In children, women (pregnant and nursing), and males, the B complex vitamins included in paneer are critical for cartilage production and strengthening.
• Paneer is high in calcium, which aids in the maintenance of healthy teeth and bones.
• Palak Paneer, with its fragrant spice flavor, is a perfect combination of taste and wellness. It's a classic dish that pairs nicely with rotis, naan, parathas, and even jeera or biryani rice. 
Read More:
Best Tiffin services In Bangalore:
A fairly priced simple Ghar ki khana, this is exactly what defines them. Sangita's Kitchen is an Indian fast food outlet that serves as well as delivers home-style thalis prepared with absolutely fresh ingredients, making it one of the best Tiffin services in Bangalore.
Order Today The Home Cooked Delicious Tiffins.
Contact Us: 6361242727/8317346918
Website link: https://tinyurl.com/29bu7k89
Whats App: wa.link/19rf9x
Email:admin@sangitaskitchenlive.comAddress: #713 , 17th C Main Rd, 6th Block, Koramangala, Bengaluru, Karnataka 560034.