Tiffin Services in Bangalore are sprouting up like tech companies around the country – there's one on every corner. Why not, after all? Most teens are preoccupied with coding, marketing, and design, leaving little time for cooking.
These Dabba services in Bangalore have proved to be the most devoted friends of students by offering healthy and homey meals at super-affordable rates. Not only that, but the best tiffin services in Bangalore also deliver a wide range of new cuisines that we haven't tried before. To put it another way, these Bangalore tiffin services have Flavors from around the world. We have the Great Tiffin Services in Bangalore.
Sangita's Kitchen Tiffin Service is known for their wholesome North Indian staples of dal-roti-sabzi. Their dabbas are served typically in those old-school steel tiffins which are served for lunch and dinner. And yes, this is a Veg Only meal priced at Rs.89, dal, roti, rice, one dry/semi-dry curry, papad, chicken meals, egg meals, this Dabba is bound to give you a feeling of satisfaction.
Straight from the hearts of those who adore homemade food. For you, we have developed the best Tiffin menu and service in Bangalore. Above everything, each of our menu items has a home-cooked flavour. Bangalore is unlike any other city in the world. It is undeniably a city where people from all over the world live. As a result, everybody yearns for home-cooked meals. Above all, because our minds need heartfelt nourishment. As a result, it should be delectable and, of course, finger-licking nice. We Have The Great Tiffin Services In Bangalore.
The majority of Bangalore's tiffin services promise home-cooked meals. Furthermore, this one goes a step further by employing a nutritionist on staff. As a result, it enables them to have nutritious gym food as well as diabetic meals. Lunch is available in two variations at Sangita's kitchen. As a result, they have two options: a complete meal and a mini-meal. Similarly, both choices serve dessert once a week. As a result, Sangita's Kitchen's tiffin service ranges from INR 1800 to INR 5500. We Have The Great Tiffin Services In Bangalore.
Benefits of Sangita's Kitchen Tiffin Services
Hygienic and Healthy
Sangita's Kitchen follows all sanitary requirements when serving food to the public, according to surveys. The majority of the food served here is nutritious, which attracts more customers to this establishment.
Food quality control
Sangita's Kitchen makes food with the best raw materials and no chemical processes, making it tastier.
Value for money
Sangita's Kitchen provides sufficient amounts of safe and tasty food at a fair price that is primarily affordable to students or office staff, such as vegetarian food for Rs89 and non vegetarian food for Rs100, which is very effective. We Have The Great Tiffin Services In Bangalore.
Variety in menu
Sangita's Kitchen advantage increased people's interest in this service because no one wants to eat the same thing every day, and this service provides new food every day, with specials on weekdays. On weekdays, for example, some places serve sweets or tasty vegetables like paneer.
On time delivery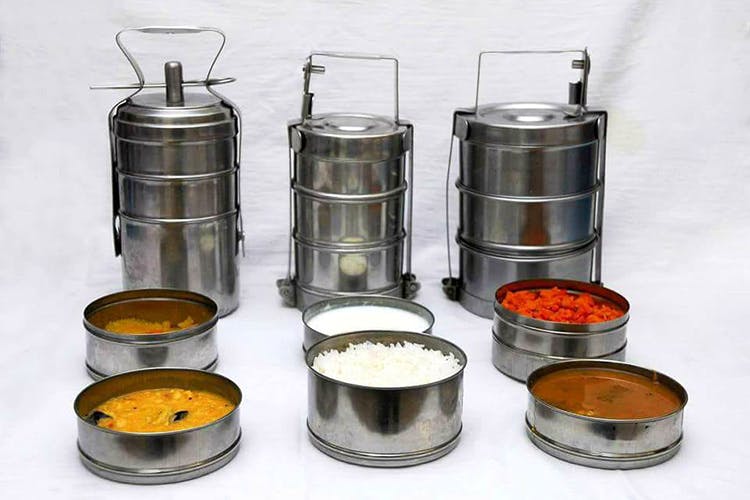 This line of work necessitates on-time delivery. To avoid delivery delays and uncertainty, fixed schedules were created. People were given a delivery location ahead of time. We Have The Great Tiffin Services In Bangalore.
No washing of dishes and utensils
People no longer have time for household chores as a result of increased employment and technological advancements, so this service serves as a support service for them.
Fix and comfortable eating schedule
It enables people to set aside time for meals, thus assisting them in living a healthier lifestyle.
read more
Reduces the risk of diseases
Homemade food is often beneficial to one's health. Since it adheres to all sanitary requirements, the risk of disease is naturally reduced.
Order Today The Home Cooked Delicious Tiffins.
Contact Us: 6361242727/8317346918
www. sangitaskitchenlive.com
Website link: https://tinyurl.com/29bu7k89
Email:admin@sangitaskitchenlive.com
Address: #713 , 17th C Main Rd, 6th Block, Koramangala, Bengaluru, Karnataka 560034.